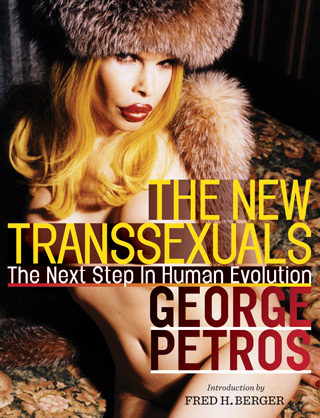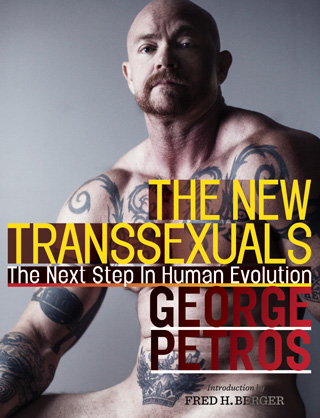 THE NEW TRANSSEXUALS
The Next Step In Human Evolution
GEORGE PETROS
Introduction by Fred H. Berger
eBook – ISBN: 978-0-9855018-1-5
Print – ISBN: 978-0-9855018-0-8
To some it's Science Fiction; to others, salvation. Some snicker and sneer; some say: I'd do that. A few transform themselves with hormones and new attitudes. A very few step forward for gender-reassignment surgery. Morphologically speaking, men become women and women become men. Psychologically speaking, they become who they already are. Technology, desire, courage, despair and politics come together under the surgeon's knife, or at the tip of a syringe, or in fashion's secret closet.
In The New Transsexuals: The Next Step In Human Evolution, George Petros, author of Art That Kills, examines the social dynamics of sex changing and rearranging, and presents in interview form a snapshot of the Transsexual Revolution. Fred H. Berger, once publisher of Propaganda Magazine, provides the introduction. Interviewers Petros, Berger, Manuel Vasquez, Rio Warner, John Aes-Nihi, and Stanton LaVey probe Transsexuals and Transgender-identified individuals (as well as Annie Sprinkle, a gal with a hands-on fetish for Trans guys) about who they are, what they do and what they want. The interviewees range from academics and professionals to hustlers and whores. They include porn stars Buck Angel and Bailey Jay, the "pregnant man" Thomas Beatie, Trans surgeon Dr. Marci Bowers, former Life of Agony frontman Mina Caputo, Punk icons Jayne County and Ginger Coyote, our cover diva Amanda Lepore, and Howard Stern's favorite Trans person, Siobhan Meow.
Here's your complimentary copy of THE NEW TRANSSEXUALS: The Next Step In Human Evolution. This downloadable eBook version contains the complete text and many photos.
This is a free eBook. It's not distributed through commercial websites geared to deliver copy-protected proprietary content, or ad-filled "free" content, to specific devices. We have made every effort to provide an effortless download experience. If you encounter any problem downloading or installing the eBook, click here for some guidance.