THE NEW TRANSSEXUALS
Mina Caputo
Rock Star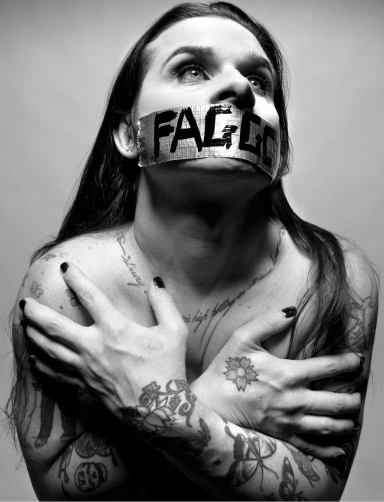 Photo: Jeremy Saffer
George Petros: WE'RE SPEAKING TO MINA CAPUTO. MINA, WHERE WERE YOU BORN?
Mina Caputo: Brooklyn, New York.
AND ISN'T BROOKLYN THE GREATEST PLACE ON EARTH?
Mina Caputo: Sometimes. I grew up in Brooklyn, but I spent most of my time in Manhattan.
I'VE SEEN IN YOUR BIOS OVER THE YEARS ABOUT YOUR PARENTS AND STUFF LIKE THAT — SO IF THAT'S OKAY TO TALK ABOUT, MAY I KICK OFF OUR CHAT BY ASKING YOU HOW —
Mina Caputo: Don't censor yourself. I'm pretty open. I don't really think that there's anything that could make me uncomfortable.
ALRIGHT. WELL, I READ THAT THEY WERE HEROIN ADDICTS AND THAT YOU WOUND UP ORPHANED. COULD YOU FILL US IN ON THAT?
Mina Caputo: I never knew my mom. She OD'ed when she was like twenty. My dad — I knew the artist in my dad, you know? He was a street dweller, and he was always in trouble, and in and out of prison, and dealing with drugs his whole life. But he's done some great stuff. He's a great motorcycle builder. He built jet engines. He was great with his hands. He tattooed so many people in jail — he was amazing. He'd paint, and he airbrushed. He can build a Lamborghini and a Harley from a bolt and a nut. He was amazing. He used to build old cars, like Fiats. And so my dad has great qualities, as well. He was an amazing artist. He was like my living Jim Morrison.
DID YOU INHERIT ANY OF HIS MECHANICAL APTITUDE?
Mina Caputo: The good stuff. He's taught me so much by the choices that he's made in his life. But he was amazing. He died in 2002 at age fifty-six. I identified his body at The Golden Gate Inn hotel in Brooklyn. He was in jail for a couple of years. They let him out on good behavior — and that night, when he got out, he copped dope and probably took his regular dosage — and that was pretty much his passing. His death wasn't really like, you know, a sad thing to me. I do sometimes weep for my father, because life is great and life is a special miracle, and I wish he could experience me now and the choices that I've made for myself. Obviously life is cruel. Death — who knows what it's like — but that's a different philosophy, you know? Without getting too morbid, I don't know what else to say. I watched the medics straightening his body. It's a gruesome tale, but I've taken the blissful moments out of that tragedy. It was tragic — but I took the good from it, and it was so warm of an experience — feeling like the universe was right in the room. His death was like buzzing — it was like an empowering experience. It was so bizarre. Any person would drop down and break down, but it was an experience full of wisdom for me. Especially now, looking back on it. Maybe if you would have asked me this question ten years ago, I'd give you a different response — because I experience life differently now than at that time. The older I get, the prettier the experience. By them not living, they taught me how to live — and live like it's my last waking moment. But anyway, I'm sorry —
VERY INTERESTING. YOU DIDN'T KNOW YOUR MOM — BUT WHAT DID YOU KNOW OF HER WHEN YOU WERE GROWING UP? WERE YOU IN TOUCH WITH HER FAMILY?
Mina Caputo: I don't really know anyone from her family. I knew my Aunt Darlene, who was her sister — but she was kind of like an alcoholic and she was crazy. Her and my dad remained together for at least thirteen, fourteen years — until things started getting really heavy between them. Like, one was in jail; one was doing this — they were just not good for each other.
THIS IS YOUR MOM AND YOUR DAD YOU'RE TALKING ABOUT, RIGHT?
Mina Caputo: No, this was my dad and my mom's sister.
DID THEY HOOK UP AFTER YOUR MOM DIED?
Mina Caputo: Yeah, they were probably hooking up before, knowing my dad. He was such a womanizer — but he was great. He's a great spirit. I love him when I think about him now. If I do cry because I miss him, it's because I wish things could have turned out a bit differently for him. We could have actually enjoyed each other —
I SEE.
Mina Caputo: Constant confusion and disconnection, you know —aside from the drugs that he did, he had his being, and I can separate the two. So, we did have some sort of a connection — but because of the drugs, it clouds things, you know? Whatever.
WHAT DID HE DO BESIDES DOPE?
Mina Caputo: That was it. He pretty much did Heroin. I mean, years ago, if we happened to cross each others path and I slept over at my grandparents' house — and maybe I smoked some Weed, and I asked him if he wanted Weed and he wouldn't even take it. He hated Weed. He wasn't a drinker. He was the quiet, artistic type.
DID HIS STINTS IN JAIL ALL INVOLVE HEROIN, OR WERE THERE OTHER THINGS THAT HE'D BEEN UP TO?
Mina Caputo: He was always doing some wild stuff, getting picked up by the cops. One time — my dad used to get high and drive a car or get on his motorcycle. One time he took my grandfather's car and went wherever he needed to go. Maybe it was to cop Dope — I don't know — and on his way back, he got into a car accident and wrapped the car around a tree, and he left the accident scene. My father had nine lives. The crazy shit that happened to him — everyone would be like, "Wow, I can't believe you're still alive." Unbelievable. He hit a tree, and so obviously the cops came, checked out the scene, blah, blah, blah. He was all scuffed up, and we figured he got into a fight or something must have happened to him — but he was too high to talk to. My father used to disgust me, in a way. I went through that period, so I kinda like stayed far away from him — and these were the days when that was happening. So, the cops ring the door bell, and I'm in the kitchen, and my father opened the door, and it's the police. The police are like, "Is there a Tony Caputo here?" And my father's like, "No, why? What happened?" My father, in the car accident, lost his dentures in the car — and the police found his dentures, and his dental records revealed his current address — and so that's how the cops got to the house. They had the dentures in a bag — and it was pretty much like such a David Lynch moment. The bag unrolled, and his dentures were in the bag — and they got my father again; they arrested him and blah, blah, blah. That is one.
WHO RAISED YOU? WHO DID YOU LIVE WITH WHEN YOU WERE YOUNG?
Mina Caputo: My father's parents — my grandparents.
WHAT WERE YOU LIKE AS A KID?
Mina Caputo: I was quiet. I was always serious. Something was different about me, and I didn't know what at that time. I didn't know what was going on in my head — but a lot was going on. I knew something was wrong — like, I would call my grandma "mom," and I would be thinking, "I'm living with my grandfather —" and wondering why my father wasn't living with my mother. I didn't know the truth until I was a bit older and started asking questions. "Hey mommy, why do you live with grandpa and not with daddy? Mommy, why do you look so much older than daddy?" I didn't know when I was younger that my mom was dead. They never told me, but I knew something was really wrong. They held back from telling me what was really going on for a long time — which kind of screwed with my head.
HOW OLD WERE YOU WHEN YOU DISCOVERED THAT YOUR MOM HAD DIED?
Mina Caputo: Maybe ten years old, eleven years old — but they told me that she had died in a car accident, not from drugs. I guess to soften the blow — whatever their reasons were, at this point, it really doesn't matter — but just to give you a little bit of history. I don't know if I'm telling you too much —
DETAILS ARE JUST WHAT WE'RE LOOKING FOR. WHEN DID YOU START SINGING?
Mina Caputo: Well, that accidentally came into my life — but I started taking classical piano lessons at about fifteen, for about four years. My cousin was always in bands. My cousin would always ask me, "Hey man, you should sing for the band." I would do like battle-of-the-bands stuff.
THIS WAS DURING HIGH SCHOOL, RIGHT?
Mina Caputo: Yeah. We had many garage bands doing different stuff, doing cover tunes — but I didn't really consider myself to be a vocalist or think that this was actually what I was going to end up devoting my entire life to. Back then, I didn't really see the birth of what was actually happening for me with my musical journey.
DID YOU PLAY AN INSTRUMENT IN THE BANDS?
Mina Caputo: Well, I was still playing Classical piano and practicing the greats like Debussy, Satie, Chopin and Beethoven — not so much Bach; I always liked the preludes and the sonatas and the dreamy stuff when I was playing piano.
WHEN YOU WERE IN THE GARAGE BANDS, YOU WERE THE FRONT PERSON —
Mina Caputo: Yeah, I was pretty much reading lyrics off insect-repellant cans and stuff, and kind of doing cut-and-paste insect songs — just doing crazy stuff; just being creative and experimental, and not really giving a shit, you know?
DO YOU RECALL THE NAMES OF THOSE BANDS?
Mina Caputo: Yeah — oh my god — I believe one of them was Capital Punishment.
WHAT ROCK MUSIC WERE YOU LISTENING TO AT THAT TIME?
Mina Caputo: At that time I was into Pink Floyd, Led Zeppelin, The Doors — I was first discovering Bob Dylan, The Stones, Blondie, very early Prince — of course Classical Music, some Jazz, Queen, The Eurhythmics, A-ha — I had a pretty wide range, but Zeppelin and Pink Floyd were in heavy rotation to me when I was younger. I used to sit outside, look out my window with the headphones on, with the cassette. I used to have the cassettes — they were the only devices to play the music that you love.
WHAT JAZZ WERE YOU LISTENING TO?
Mina Caputo: Well, my uncle had Bitches Brew. He had some Coltrane and some Billie Holiday. I loved Billie Holiday. I want to do like a Billie Holiday band where I play Billie, or I interpret her in my own physical thing — but it's something that I've been wanting to do, especially when I have some time off in New York. I could maybe do a residency, and do Holiday covers. I don't know —
SHE'D BE FLATTERED, I'M SURE. I THINK SHE WAS THAT KIND OF PERSON —
Mina Caputo: Yeah, she was amazing. I love her. I read a fantastic biography about Billie Holiday just recently.
SO YOU'RE IN HIGH SCHOOL AND YOU'RE IN THESE BANDS — DID IT JUST DAWN ON YOU, "HEY, I COULD DO THIS PROFESSIONALLY —"?
Mina Caputo: I was going to college. At that point, Life Of Agony had formed. While I was in college, I was doing the album River Runs Red with those guys — but I was still in college; still trying to figure out what I want to be when I grow up.
COULD YOU MENTION WHO THE OTHER MEMBERS OF THE BAND WERE —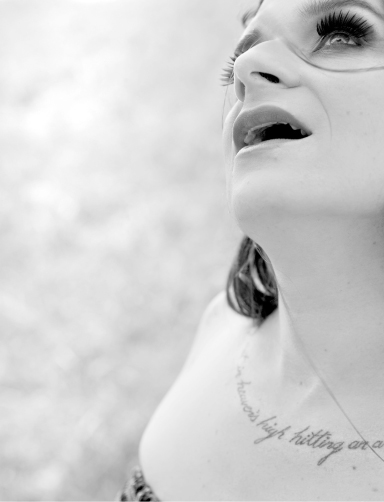 Photo: Jeremy Saffer
Mina Caputo: Yeah. It was Joey Zampella, my cousin. Sal Abruscato — he was from Type O Negative. And Alan Robert. At this point we sold out two nights in a row at L'amour, and we were doing huge gigs in New York City — but we still really didn't give a shit, and we were still all young and crazy and not really knowing what we wanted at that age. I was so young — I was nineteen or twenty —
TELL ME ABOUT PLAYING L'AMOUR. I USED TO LOVE THAT PLACE —
Mina Caputo: I didn't really care, to be honest. I mean, I've done so many venues — I can pick a million more venues that were better than L'amour right now.
WASN'T THAT YOUR HOME BASE FOR AWHILE?
Mina Caputo: Yeah, but when you experience it directly — like when you go to Hollywood and become a big movie star, you see how people work or how they don't work, or promise you money and not give it to you — all the politics that's involved. When I was twenty, I couldn't really tell you what I was thinking. I thought it was amazing that we can sell out two nights in a row. Yeah, it was fun. I wasn't really — I had a different life. That was like the other hand of my life. I didn't really know what I wanted back then. I really didn't give it much thought, to be honest: "Oh wow, we're playing L'amour!"
I GOTCHA. HOW DID YOU COME TO BE ON ROADRUNNER RECORDS?
Mina Caputo: Monte Conner was A&R at the time at Roadrunner, and he came to one of the Life Of Agony shows and didn't like my voice. It took him a little while to give us a deal — but eventually he folded and gave us a deal. At that point, he didn't realize the value of the band — but he woke up pretty fast.
YOU DIDN'T LIKE ROADRUNNER, RIGHT?
Mina Caputo: It's not that I didn't like Roadrunner. I think I'm the type of person who is anti-establishment, and when there's too many fingers in the pot, things get fucked up — and, you know, the music business is pretty cut-throat. It's not that I didn't like anyone. The deal is, when someone doesn't do their job, I'm the type of person to tell them they're not doing their job. You know? I quit the band. People started to resent me because I quit the band at the height of our — we were about to explode on radio. Everything was lined up, and everything was just picture-perfect. Well, what happened next is, I left the band — Life Of Agony was certainly a big band.
HOW WAS YOUR LIFE AS A ROCK STAR? WAS IT GROUPIES, DRUGS —
Mina Caputo: You know, I was different by nature, and it really wasn't my style to be sleeping with a million different girls. I've experimented with some drugs, but I wasn't really like seriously addicted to any substance, you know?
RIGHT.
Mina Caputo: Coffee and wonton soup is more of an addiction than me doing a bag of Cocaine or something when I was twenty-one years old — you know, trippin' and Mushrooms and Weed, Mescaline — I've never done Heroin and I never would. Never ever. I think the worst that I've done is Cocaine. I did it enough times to make me feel like I hate the feeling: Can't get an erection. Can't have sex. Can't think straight. Your soul gets vacuumed into a different intangible dimension. You can't even function — at least I can't function. Have you ever done Cocaine?
I HAVE DONE COCAINE IN MANY FORMS.
Mina Caputo: Then you know how your soul kind of like — phew! — goes away. I mean, I can't have sex. You know?
YOU HIT THE NAIL RIGHT ON THE HEAD.
Mina Caputo: I can't operate.
TELL US ABOUT YOUR SEX LIFE. I DON'T MEAN TO BE TOO PRYING HERE — AS A ROCK STAR, WHAT WERE YOUR PROCLIVITIES, AND WHAT WERE YOU UP TO, IF ANYTHING?
Mina Caputo: Well, I'm not saying that I didn't fall victim to stuff like that. I had lots of experiences, but I was kind of sweet about it. I don't know. It's happened, but it's far from being on the agenda. It wasn't a priority, you know? Maybe I'd meet a girl in Berlin; I'd be real sweet on her for awhile and I'd have that going on for a bit and then I'd meet someone in Sweden and we'd be sweet on one another, and I'd have that for a little while, and whatever. You know? So you were a romantic guy — I am an old romantic at heart.
I HEAR THAT IN YOUR SONGS.
Mina Caputo: I'm definitely a romantic about everything — life, poetry —
DID YOU HAVE ANY ENCOUNTERS WITH GUYS AT THAT POINT?
Mina Caputo: On the road, doing my Rock Star life?
YES.
Mina Caputo: No. That was pretty much forbidden fruit. When I'd go home I'd carry on the life that no one really knew — because things were developing in my professional life, and then things were developing in my personal life, and for a very long time they were separated and I had many identities and wore many suits and changed many colors, until it pretty much exhausted me. Normally, George, I'd always have a girlfriend. I was faithful. Maybe not all the time, but I was pretty much faithful — it depended on the arrangement that I had with the girl and at that time, yes, I've experimented with men — but definitely not on the road. I mean, I love beautiful people. To me, it's just beautiful people. So —
I SEE.
Mina Caputo: I'm a bit odd when it comes to gender and sexes. To me, it's all about energy.
THIS OTHER LIFE — WOULD YOU ADOPT A DIFFERENT PERSONA? WOULD YOU GO OUT AS SOMEONE ELSE, MAYBE DRESSED SO THAT YOU WOULDN'T BE RECOGNIZED?
Mina Caputo: No — I would just go out as my true self. I would present myself as a woman. I've been going out to nightclubs since I was eighteen, and going to clubs like Escuelita back in the Nineties — this was before the Internet took over the escort world, and a lot of the Transsexuals that I knew years ago — most of them were working girls. They were trying to make a living, because it was even more difficult for a Trans woman or Trans man to get the respect that they deserve and get fair opportunities for work. So, Transsexuals don't have that many choices — especially if they're called out as being the gender that they're not trying to reveal or present. Because it's hard to assume a body — at least for people with gender eccentricities.
WHEN DID YOU FIRST WEAR GIRLS' CLOTHES?
Mina Caputo: Probably when I was like eight years old, nine years old —
AND DO YOU REMEMBER THE FIRST TIME YOU WENT OUT IN GIRLS' CLOTHES?
Mina Caputo: Yeah, probably about seventeen, eighteen — back then I didn't know that I was Transgender. There wasn't a name. I didn't have the Internet at my fingertips to find out what an endocrinologist was, that I needed to go to therapy to acquire hormones because I wanted that beautiful girl to come out of me the way they came out of all these other beautiful Transsexuals I knew and used to hang around with on the weekends — I'd learn about their lives. I'd learn about their shortcomings, their successes — back then, the information wasn't as spread-out as it is now. Probably most twelve-year-olds are on computers already, helping discover about themselves or their interests or whatever it is — video games, gender, sexuality — if people want to find something out there, they find it.
WHEN DID YOU START TAKING HORMONES?
Mina Caputo: This February, it'll be three years ago.
HOW DID THAT CHANGE THINGS WITH YOU?
Mina Caputo: When I was a boy I was very sad.
DID THE SADNESS GO AWAY WHEN THE HORMONES KICKED IN?
Mina Caputo: Well, the first year was very difficult to get through, psychologically. So many things were changing. It's almost been three years, and it was the best thing that I could have done for myself, psychologically and physically. My body's changed drastically. I feel like I'm one with myself, in a way. I don't identify as being male. Everything changes, really. Your tastes, sex drive —
HOW DID YOUR SEX DRIVE CHANGE?
Mina Caputo: Well, obviously I was always an emotional human being — I mean, it did and it didn't. It's hard to break it down into simple terms. Not as aggressive — you know what I mean?
AND YOUR ROLE IN THE WORLD CHANGED. PEOPLE TREAT YOU DIFFERENTLY, I WOULD IMAGINE — RIGHT?
Mina Caputo: Yes, they do.
I HOPE THIS DOESN'T SOUND LIKE A SILLY QUESTION, BUT WHAT'S THE DIFFERENCE BETWEEN BEING A BOY AND BEING A GIRL, AS FAR AS HOW THE WORLD TREATS YOU?
Mina Caputo: Well, it's strange because I'm both and I'm neither — but I do present myself as being a woman. I get different reactions. If you smile and you're sharing your joy and celebrating yourself — it sounds cliché but it's true: If you smile the whole world smiles back at you.
TRUE.
Mina Caputo: If you express fear and insecurity, lack of confidence, paranoia, then people won't welcome you. As far as my fans and certain family members, I've been getting a lot of love and support. I'm just a human being. Human beings shouldn't be titled and put in boxes. There is no right or wrong way of how to express your human nature. It was odd growing up identifying as a woman. My subconscious sex is female, living in a male body — it was difficult. It was confusing. It was depressing. Now that my body is changing, fat is being distributed in all the desirable areas — yeah, my heart is healing. It's a special moment for my spirit.
I SEE.
Mina Caputo: I always thought poetically about life. Life is always precious to me, but now I feel like, I'm ecstatic making certain choices. I don't have to hide. It's not a secret. If you want change in the world, you have to become that change. I want to see more feminine men. I want men to not be afraid, or women to not be afraid to express their true selves — because that's what our life's about, to really share each other. You see, too many people live confined. Most human beings are so desperate. I was desperate. I'm still desperate, but there's levels of desperation — and I'm less desperate. I feel like my personal life is on that road to becoming the success I need it to be so I can achieve the fullest spirit. My potential is infinite, and I have to get there at whatever cost. I have to be true to my own heart, my own self. I was ready to accept all consequences, even if it meant me starting a new life career-wise, because I didn't know how my fans — and I don't want to sound corny when I say that, but I have a legion of listeners —
YES, YOU DO.
Mina Caputo: I thought maybe it would be really bad. I get knuckleheads and meatheads once in awhile, but you know what? At this point, George, it really doesn't bother me. I'm so confident in myself. You're not born a woman; you become a woman. For a genetic woman, you're not born a woman, you have to become a woman. I'm just a beautiful human being and I want to live beautifully. I want to share that beauty. To me, whether it's being a Hermaphrodite or Transsexual, someone that's gender-fluid —
ALRIGHT. HOW HAS YOUR SONGWRITING CHANGED AS A RESULT OF YOUR CHANGES?
Mina Caputo: Yeah, I'm thinking about the changes —
YOUR STUFF'S BEAUTIFUL. I LIKE THE SONG "SON OF A GUN" —
Mina Caputo: That was in 2007. Yeah, it's a beautiful record. It's tear-jerkin' stuff. You don't have to be depressed to write an amazing song. I've written so many beautiful songs lately. I don't know how — I work like the dawn. I work like the dusk. I don't really know how to talk about my stuff; it's just what I do. It makes me feel better. Maybe because I'm more in touch with myself and I'm free about certain parts of myself — less ashamed. There was this mourning process, of me; there's a mourning-healing process that goes on with a transition. I've also mourned the death of self in some strange way — and it's still lingering —
DO YOU FEEL ANY CONNECTION TO YOUR MOM IN ALL THIS?
Mina Caputo: I do. My first theory was that, as far as the fact that I was so feminine — I didn't identify as being Homosexual because I always loved the company of women — I loved everything about being a woman. Wearing the clothes, the posturing, the emotional state. I'm sorry — what was the question again?
I WAS ASKING ABOUT YOUR MOM. IS THERE ANY ATTEMPT TO RECAPTURE HER LIFE, OR TO — I DON'T WANT TO SAY "RESURRECT," BUT TO, YOU KNOW, FINISH SOMETHING THAT SHE MIGHT HAVE STARTED — DOES THAT MAKE SENSE?
Mina Caputo: Yeah, it sorta does — because one of my first theories was from when I was trying to figure out, "Why do I want to be a girl? What is this feeling I'm having, and living this way in fear —" It was a different time. I handled things differently because of the way that my life was developing. I always felt like my mother, when she died, her soul went into my body — and I'm double-spirited. Maybe she went through and didn't stay — but who knows what happens when you die? I always imagine that my mother's soul came through my nose or my mouth when I was crying, and put a little something extra in me — but that's my imagination going crazy.
MAYBE — MAYBE NOT.
Mina Caputo: I think science has proven that the brain is actually gendered, and that it's in your makeup — or maybe it happens in the womb. I'm not really sure what makes a girl want to be a boy or a boy want to be a girl. It's not them really wanting it; it's that the brain doesn't connect with the energy that's inside of you. You feel something different. It was painful being a boy, for me. It was painful to live and pretend, and to live those clichés — when deep, deep down inside I wanted to be the woman that was admiring my male self. You know what I mean?
YEAH.
Mina Caputo: It's crazy. It's almost as if I were living through the eyes of others while pretending to be — like, the requirements of being a man, you know? Those sorts of responsibilities — energies, and what men are into — I'm so far removed from the idea of the male species, it's not even funny. I've been on hormones for three years and I can never go back. I would be so miserable if I transitioned again — you know what I mean?
I DO.
Mina Caputo: God, I could never —
IS THERE AN INNER DIALOGUE BETWEEN THE GENDERS?
Mina Caputo: I'm always thinking and I'm always talking to myself, if that's what you mean. It depends on the situation. It depends what's going on. It's a hard question.
ALRIGHT — COULD YOU TELL US ABOUT YOUR TATTOOS?
Mina Caputo: I have butterflies all over my body. Well, I have maybe fifteen of them — and to me, they represent empowerment, and fragility, and how a butterfly was once a caterpillar. That was pretty much the intention behind the pieces. I got them in different countries, by different artists — different states — I have Rimbaud. You know Rimbaud, the poet?
I DO.
Mina Caputo: I have Rimbaud and Van Gogh holding hands on my other arm.
AND WHAT DOES IT SAY ACROSS YOUR CHEST?
Mina Caputo: It says, "Strung Out In Heaven's High Hitting An All-Time Low." It's a line from David Bowie's "Ashes To Ashes."
A BEAUTIFUL SONG. I LOVE DAVID BOWIE.
Mina Caputo: Me too. I love Bowie. One of the pieces is by Mike Ledger from New York City. He tattooed a lotus piece on my wrist. Actually, he gave me my second piece. My first piece is on my leg, and it says, "Sid loves Nancy." I got it in Wichita, Kansas by some biker dude. I was tripping on Acid with Sal and we had a crazy, crazy time.
ARE THERE MORE TATTOOS FOR YOU IN THE FUTURE?
Mina Caputo: I want to finish the tattoos going from my arm to my back, down to one of my butt cheeks, down my whole leg to my feet. I don't know — I take my time with that. I can only take about two hours of tattooing, and then I'm in bed with fever for like a week. I cut-and-pasted lots of Jim Morrison's poetry, and I made my own poetry from his poetry — the Burroughs way. I made some wicked Morrison poetry on my leg from my ankle all the way up to my knee.
INTERESTING. WELL, MINA, I THINK WE'VE COVERED LOTS OF TERRITORY HERE. I HAVE A REALLY GOOD PERSPECTIVE ON WHAT'S HAPPENING. HAVE I MISSED ANYTHING?
Mina Caputo: If you have any more questions you could always ask me at a later date. I didn't really know what to expect when I spoke to you. I thought it would be more about — I didn't know what to think when you said "Transsexual revolution." What's your thing with Transsexuals? What's your story?
I DON'T KNOW —
Mina Caputo: Do you like Transsexuals?
I LIKE THEM AS PEOPLE, VERY MUCH.
Mina Caputo: Have you spoken to Amanda Lepore?
YEAH, SHE'S ON THE COVER OF THE BOOK.
Mina Caputo: I love her. She's so crazy. I think it's really awesome that you're doing this.
THANK YOU.
Mina Caputo: I'm happy that you asked me if I could contribute a little bit.
I'M HAPPY TO HAVE YOU IN IT. I'M HAPPY TO HEAR YOUR MUSIC, TOO. YOUR STUFF IS VERY MOVING. THANKS AGAIN —
Mina Caputo: Okay. ~